Title: A Wish For Jinnie
Author: Audrey Davis
Date of publication: June 22nd, 2020
Publisher: Tanzanite Books
Print length: Paperback, 261 pages
Genre: Comedy, Magical Romance, Fiction
Edition: ebook (ARC)
You can buy this book from Amazon
★★★★
Writing Quality 4/5, Character Development 4/5, 'Couldn't put it down' – ness 4/5, Intellectual Depth 5/5, Originality 5/5, Overall 4.4/5.
You all know how much I loved The Haunting of Hattie Hastings, and a part of me was quite scared to read this book because of it. It happened to me before to like a novel from an author, and the second book not to be as good as the first one. What if my expectations were too high, and I end up giving this book a bad review? To my happiness, none of these happened to me, and I am so very happy I got to be an early reviewer! (I received a free copy from the author in May)
Jinnie was such a well-written character. What I loved about her the most was the not-so-healthy obsession with Jennifer Aniston. Sam was such a great guy, and the chemistry he and Jinnie had warmed my heart with every page I turned. Wilma, Jinnie's grandmother, was such a savage, but so wise at the same time. Even if she was a bit crazy, I wish I could be like her when I grow old. Every character brought something to the story, and each one of them had a full backstory behind, the only problem was that sometimes I got the names mixed up in my head, and got confused over who's related to whom.
Recently, fantasy novels grew on me, and the fact that this book had a tint of magic in it, made it ten times better. It was a light read. I finished it in a couple of hours, and the ending WARMED MY HEART! Now I'm a bit sad that I didn't pick it up earlier, and that I was so scared to read it.
The only thing that bothered me, more or less, was something that never happened to me before. It was hard for me to pick it out, but as soon as I started reading, I was hooked. When I took a break to, I don't know, eat, and came back to continue reading, it was once again hard for me to start. This is why I took a point off the 'couldn't put it down'-ness point. Despite this, A Wish for Jinnie was a great novel and I recommend it for further reading.
P.S.: I saw that a fourth novel is in the making, and I would sell my soul to read it.
ABOUT THE AUTHOR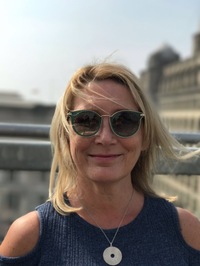 Audrey Davis survived secondary school on the West coast of Scotland. Rubbish at science but not too bad at English, she originally wanted to be an actress but was persuaded that journalism was a safer option. Probably wise. She studied at Napier College in Edinburgh, the only place in Scotland at that time to offer a journalism course.
It wasn't until 2016 that Audrey rediscovered her writing mojo with an on line Writing Fiction course. From there, her first novel – A Clean Sweep – was born, although it took a bit longer than nine months from conception. A short, darker prequel – A Clean Break – followed, and in November 2017 she published the first in a novella trilogy, The Haunting of Hattie Hastings Part One. Parts Two and Three will see the light of day in early/mid 2018, after which she might have a wee lie down …