Title: The Haunting of Hattie Hastings (The Haunting of Hattie Hastings #2)
Author: Audrey Davis
Date of publication: March 21st 2018
Publisher: –
Print length: ebook, 95 pages
Genre: Comedy, Romance, Fiction
Edition: ebook (ARC)
You can buy this book from Amazon
★★★★★
Writing Quality 5/5, Character Development 3/5, 'Couldn't put it down' – ness 5/5, Intellectual Depth 5/5, Originality 5/5, Overall 4.6/5.
After reading the first part, I was dying to know what happens next, so I started reading right away! I finished this one even faster, and I am glad I kept reading.
The characters of the story remain the same, Gary's new buddy. I can say that I enjoy all of them (more or less) because let's be serious for a minute, they all brought the story to the actual stage (which I pretty much enjoy). Although I think that every character has a well-defined story behind him/her, I wish the author put a bit more shine on Jhonny, Hattie's son.
Just like the first novel in the series, this one is just as refreshing. To be honest, I think I fancy this one more than the other one, mainly because it seemed more straightforward and quicker to read (it took me about one hour, maybe one hour and a half to finish all in one go). I didn't feel the need to stop for a break, perhaps because of the chapters which weren't too long, an average of 4-5 pages, if I have to guess. Near the end, it got more interesting than usual and for a good reason, what a cliffhanger! I didn't expect it to end so fast, but surprisingly, I am not mad, maybe because I don't have to wait for the third (and last) part.
Overall, I think it might be a good idea to start with the first part (as if it wasn't obvious) because there you have the back story of the characters. I find this part quite important because I don't think you can fully understand the story. If you are looking for a comic, romantic, yet sad light read, this is the book for you! I will give it 4.6/5 stars only because I feel the author didn't put enough light on Jhonny. Otherwise, it is a great novel.
I recevived a free copy of this book and I reviewed it volunarily.
ABOUT THE AUTHOR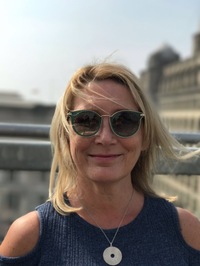 Audrey Davis survived secondary school on the West coast of Scotland. Rubbish at science but not too bad at English, she originally wanted to be an actress but was persuaded that journalism was a safer option. Probably wise. She studied at Napier College in Edinburgh, the only place in Scotland at that time to offer a journalism course.
It wasn't until 2016 that Audrey rediscovered her writing mojo with an on line Writing Fiction course. From there, her first novel – A Clean Sweep – was born, although it took a bit longer than nine months from conception. A short, darker prequel – A Clean Break – followed, and in November 2017 she published the first in a novella trilogy, The Haunting of Hattie Hastings Part One. Parts Two and Three will see the light of day in early/mid 2018, after which she might have a wee lie down …