Title: The Haunting of Hattie Hastings (The Haunting of Hattie Hastings #1)
Author: Audrey Davis
Date of publication: November 24th 2017
Publisher: –
Print length: ebook, 97 pages
Genre: Comedy, Romance, Fiction
Edition: ebook (ARC)
You can buy this book from Amazon
★★★★★
Writing Quality 5/5, Character Development 4/5, 'Couldn't put it down' – ness 5/5, Intellectual Depth 5/5, Originality 5/5, Overall 4.8/5.
Yesterday I received an free copy of this book after requesting it. To be honest, I wasn't hyped in reading it because it isn't the usual genre I am going for while picking a book. Not going to lie, after reading the first few pages, my opinion changed.
In the first chapter, a tragedy occurs (Gary's death) and in the second one, the main character, Hattie, goes insane. At first, I didn't know what to think of it, until I read more and the whole action started to grow on me. To be honest, a part of me kept reading only to see if Hattie is actually insane. It is a romantic comedy, not a horror book. It focuses more on the fortunate and unexpected return of Gary than on the horror side of it. Throughout the book, Hattie tries to tell people she can see her deceased husband, without sounding like a crazy widow.
The other side of me kept reading because of the way the book is written, the style to be more precise. It can be seen from afar that the novel is written by a British author. It contains some of the slangs of British English which I really enjoyed. I always liked British English more than American English, and this book has been just a delightful read. The chapters are just the right length (an average of 4 pages), and I didn't get bored while reading. I laughed a few times (maybe more than a few) which is understandable, giving it is a comedy book.
Overall, I really enjoyed it, and I am looking forward to reading the second part. I recommend it if looking for a light reading or if in need of a refreshing read.
I received a free edition of this book, and I reviewed it voluntarily.
ABOUT THE AUTHOR: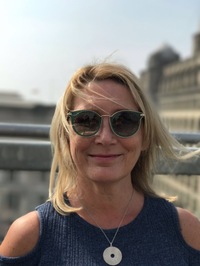 Audrey Davis survived secondary school on the West coast of Scotland. Rubbish at science but not too bad at English, she originally wanted to be an actress but was persuaded that journalism was a safer option. Probably wise. She studied at Napier College in Edinburgh, the only place in Scotland at that time to offer a journalism course.
It wasn't until 2016 that Audrey rediscovered her writing mojo with an on line Writing Fiction course. From there, her first novel – A Clean Sweep – was born, although it took a bit longer than nine months from conception. A short, darker prequel – A Clean Break – followed, and in November 2017 she published the first in a novella trilogy, The Haunting of Hattie Hastings Part One. Parts Two and Three will see the light of day in early/mid 2018, after which she might have a wee lie down.
This description has been taken from her Goodreads page.